TRAILA™ 200 VIBRATOR MOUNT
The Traila™ unit is designed to
save weight and make unloading your truck and tender hoppers
simple and effective.
Lightweight power – With a weight of under 21 lbs, the Traila™ 200 unit is a breeze to carry and activate where it is needed to maximize material flow. Consider the maximum weight of material in the bin slope area and if it is between 1,000 and 4,000 pounds (455kg to 1,815 kg) then Traila™ 200 will deliver the right force and frequency to clear your toughest loads. For material in the bin slope area weighting under 1,000 lbs (455kg), consider using the Traila™ 150.

Easily moves from hopper to hopper – Traila™ can be quickly moved from hopper to hopper as needed with its suction activated base. There are no bolts, no welding, and no hassle involved! The suction is so effective, it even works on plastic tote bins, fiber drums bins and any other non-porous surface.

Securely attaches to hoppers on grain trailers and more – Tried other models that failed? VIBCO's Stik-It™ mount was designed just for the harsh dusty agricultural, industrial and construction environments. Our vacuum producer will pass large dust particles that will kill other units! Trucks, trailers, tenders, rail cars, any temporary material flow problem spots, hopper clean outs... all are perfect places to Stik-It™!

Attaches easily to your truck – VIBCO's specialized air fitting simply attaches to your truck's compression system. You can quickly swap between bins using nothing more than an air hose. A straightforward switch starts the suction and another starts the vibration. Redesigned for reduced weight and versatility, the Traila™ has the right force and frequency to clear your toughest loads.

High temperature units are available – While our standard units cover a good temperature range from 32°F to 125°F (0°C to 51°C) our extreme range units take you to a higher and lower temperature zone, from -40°F to 450°F (-40°C to -232°C).
All VIBCO Piston Vibrators require lubricated air.
VIBCO Pneumatic Piston Vibrators really hit home...
Low Cost — fewer parts mean lower cost and less maintenance
Reliability — built to last with simple design and heavy-duty construction
Selection — a wide range of models to choose from so you get what you need
Powerful — high impact, linear force and efficient energy transfer
Virtual Van Visit page, to see how we give you easy to follow 1, 2, 3 step-by-step mounting procedures. We also can give you an Instructional Manual page that can answer many of your questions. If you want to see how our Traila™200 appears in our general catalog, click here for the Catalog Page.

We can also take you to our Catalog Website where you can download a digital version of all of our catalogs or order your own printed copy. Our 80 page color version is also availabe in French (Canadian) and Spanish as well as English with key charts in Imperial (inch) and metric.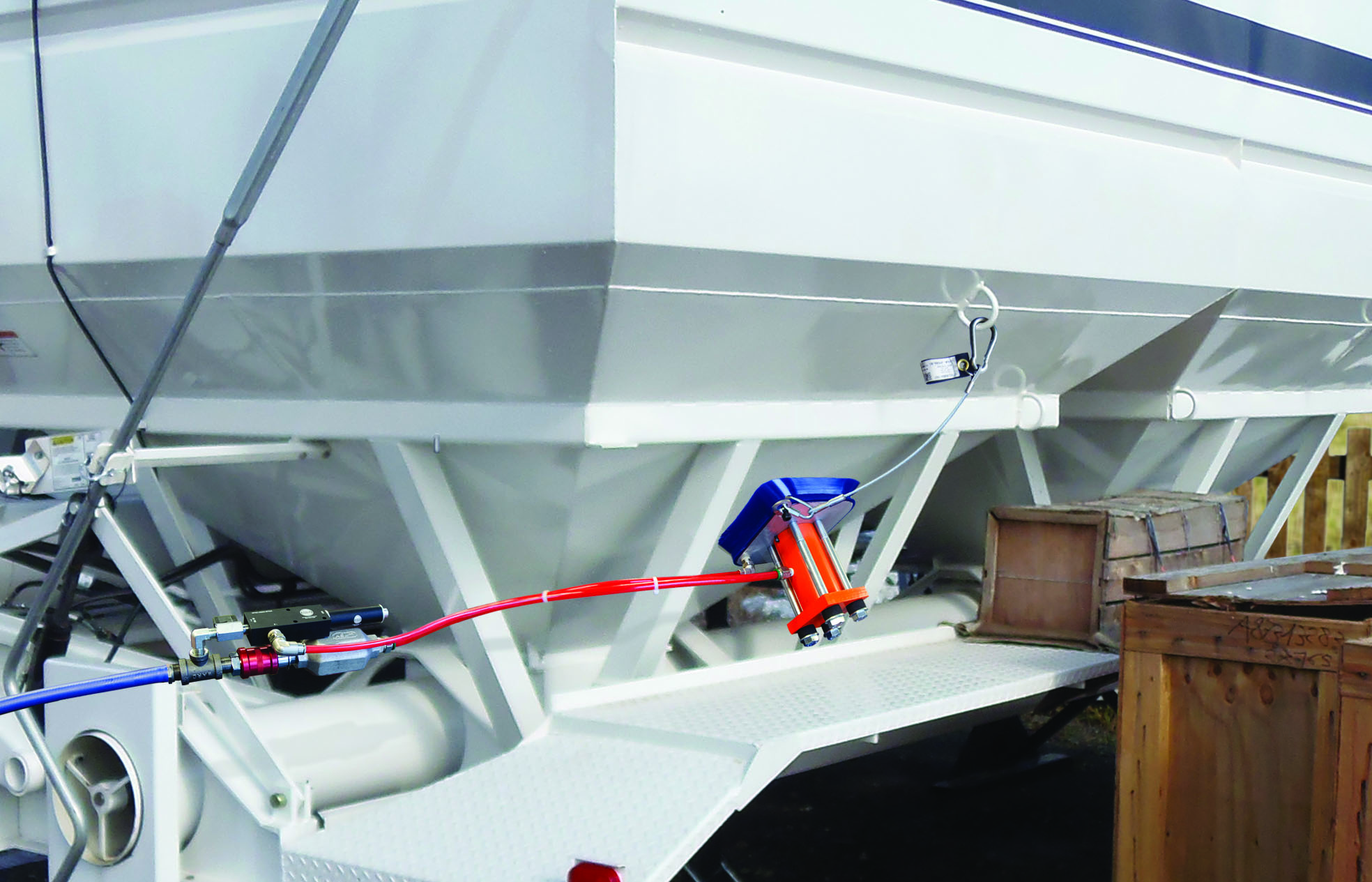 As with all VIBCO vibration equipment, our units are 100% manufactured in the USA under strict quality standards - just as they were when we started this venture in 1962. We hold numerous US and Foreign Patents and are continuing that innovative spirit with a new generation of engineers, and solid craftmen and women.
When you place your order, many of our models are available in stock to ship the same day or next day to get them in your hands quickly. And if you have any questions, our technical support is there for you 24 hours a day! 1-401-539-2392